In Creatives Solidarity News, (is there where I'm supposed to say "Hi Comrades or something like that?")


1. A single hashtag is once again blowing up an entire industry. This time it's about POC seeing some real data on the disparity in pay with their White peers, that hashtag is #PublishingPaidMe and it's all about talking about how much money these writers are making and have that be a more common, everyday conversation!
Woo!
Feels like it was just yesterday this group was talking about how it's only in the company's best interest (not the workers) that people don't talk about what they get paid because something about it feels wrong…
And so Tochi Onyebuchi, who is another fantasy writer, he tweeted along the lines of, "if you guys are going to do this equality thing, white authors, you have to be ready to have the uncomfortable conversation of what it is that you make … the purpose of the hashtag was for black authors who were coming in and who were in to see, like — there's a difference between knowing and then knowing, you know. So there was no expectation ever put on black authors for sharing theirs. It was more, this is what publishing is able to give to people. You can now use this to fight for what you are worth." NPR
"A Google spreadsheet that collected the advances of authors also went viral, amassing nearly 1,200 entries by midday Monday. Its contents were self-reported and could not be independently verified, but many entries were detailed with the genre of book, the race, gender and sexual orientation of the author, as well as what the authors were paid. Of the 122 writers who said they earned at least $100,000, 78 of them identified as white, seven as black and two said they were Latin American."
The actual SPREADSHEET (if only it weren't hosted by Google…)
Kiese Laymon, the author of "Heavy," joined in the movement after seeing Roxane Gay's tweets

"As much as we can talk honestly about money, which is hard in this country, we just have to be courageous, so that people coming behind us don't have the same struggle," he said. "A lot of us didn't know our deals were so bad, we were embarrassed to talk about [them]. This thing is to let people know, we don't have to be embarrassed when there are disparities between different groups." LA TIMES

"The bottom line of the #PublishingPaidMe conversation is that many publishers clearly have the funds to pay Black authors more money, so they should pay Black authors more money," romance writer Alyssa Cole tweeted "The end." BUZZFEED
2. Also in other news, the Marciano Foundation has settled with the art workers that were attempting to unionize. This is because the famed GUESS jeans company decided to end all leverage by closing everything down. Once news caught on and they looked pretty bad, in July they SETTLED the lawsuit (hopefully this isn't behind a NYT paywall): NY TIMES
70 Workers have won $207,000 or as the article puts it, about 10 weeks of pay.
For more exciting news in the world of Art, Politics & Systemic Racism, here's a fairly random collection of 10 Instagram accounts you might want to follow:
@changethemuseum
@mocadresistance
@decolonizetheartworld
@womenscenterforcreativework
@laartworkersrelieffund
@mocada_museum
@jobs.art.ig
@whatanartshole
@btfacollective
@fuckupayus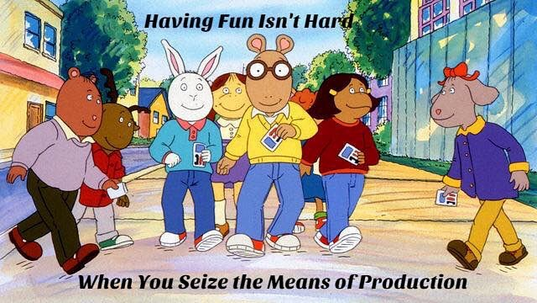 3. I helped pay into Sonya Renee Taylor's student loans, basically just $10 or something like that. As of today they are… WOOSH, gone. Unbeknownst to Sonya, as she was making #BuyBackBlackDebt trend, it all backfired and it started with her!
A nice example of cooperative economics.

So to end this, enjoy one more meme: